There is no more stimulating setting than the 'outdoor classroom'. This classroom is equipped with expandable walls that extend as far as the learner's legs want to carry him, and a floor that varies from locale to locale – sometimes rocks, or water, sometimes forest floor. Its ceiling, too, is varied with ever-changing cloud shapes, or a night with a myriad of star patterns waiting to be explored. No schoolroom ever had the books or maps or charts to rival the vividness of the real world.

Lord Chesterfield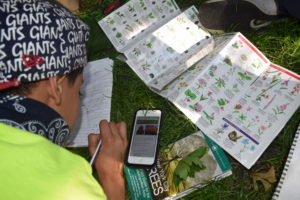 There is an ever-growing body of research that links contact with nature to a wide range of benefits. Whether it's your local park, a shady tree or a patch of grass, getting your students outside can have a positive impact on health, learning, and development.
Here is a list of some of the benefits of taking learning outdoors! Please let us know if you can think of more.
1. Makes learning more relevant
Kids are driven by curiosity and the natural world stimulates that curiosity. Using nature as a classroom shifts the educational focus from secondary to primary sources. Many educators rely on videos, lectures, and textbooks as teaching tools. Applied-learning through practical projects and first-hand experience allows kids to make connections and stay engaged.
2. Recognizes and accommodates different learning styles.
The fact is that we do not all learn the same. Some students may learn better with visuals, others with words, some via physical touch, and others in groups, etc. Today's classrooms are very text-based and make it harder for other types of learners to remain engaged. The outdoor classrooms allow for an experiential approach that can accommodate and fuse other types of learning styles.
3. Nurtures imagination and creativity
Learning outdoors nurtures student's creativity and supports children's problem-solving skills. It fosters a more hand-on, active, inquiry-based learning in a real-world setting. Seeing wild creatures, listening to novel sounds, and having new experiences helps break our urban routines.
4. Learning from each other
We are deeply social creatures. It is so important for youth to learn from each other while playing together. Time spent outdoors has been proven to reduce challenging behaviors and offers ample opportunities to improve their co-operation and collaboration skills.
5. Improved Health and Well Being
Many countries deal with child obesity and other illness plaguing youth due to sedentary lifestyles. Outdoor play encourages physical activity while learning. Time outdoors provides increased feelings of joy and happiness and is known to reduce stress and anxiety. It also helps alleviate symptoms of attention deficit disorders.
6. Enhanced academic success and achievement
Evidence shows that more active forms of learning enhances test results, improves memory, and focus. Exploring the natural world fosters the use of systems thinking and helps students understand the interconnectedness of all things.
7. Take a break from the screens
Youth are spending more and more time on digital screens via tablets, phones, and television. Too much exposure to screens and lack of physical activity may lead to obesity, psychological issues, and stifle academic progress.
8. Creates environmental stewards
You cannot protect something you do not know. Exposure to nature helps develop an interest in the environment and builds a sense of wonder for all the beauty of life. Using nature as a classroom helps children learn to understand and respect the interdependence of animals, plants, humans and life cycles.

9. Goes beyond learning
Time spent in the natural world engages our sense of touch, hearing, taste, smell and sight. We have evolved in the natural world and have a deeply rooted need to connect with nature. We are not separate from nature, we are nature. The same force that makes the trees grow, makes our heartbeat!

10. It is FUN!
Education takes up a lot of our time growing up. Playing while learning together is so much fun. Children have a natural desire to play outside and taking the classroom outdoors can help blur the lines between academic learning and creative play. Yes, learning can be fun and foster active and engaged life-long learners.

---
Classrooms are a recent innovation. We learn best from each other and the world around us, making the natural environment the world's most powerful resource for learning.
For the sake of our species and the positive development of our youth. We want our children to understand the natural world, the environment, the creatures that inhabit it and the systems that make it work. Therefore, we must take advantage of all the learning opportunities around us, especially the outdoor classroom. The natural world sustains us and can teach us too!