[Detalles del evento en español mas abajo]
Newburgh residents and organizations are coming together to clean up the overgrown shrubs and abandoned trash surrounding Muchattoes Lake. We invite you and/or friends to join!
Many residents and passerbys forget this natural beauty and the hidden waterfall located nearby! Therefore we want to reveal our natural assets by cleaning up the eastern perimeter of Muchattoes Lake, create an opening to the Lake at South William Street, and begin shaping a more welcoming Lake Street Corridor. This project also starts to re-connect the area to other natural anchors, Crystal Lake, Quassaick Creek, Muchattoes Lake, and Delano-Hitch Park, thus creating our own "emerald necklace".
RSVP is encouraged: dosmallinterventions@gmail.com
(Please include Full Name and age for each attendee, E-mail, Phone #)
Unable to attend? We still want to hear from you.
Help us promote this event by sharing this invite!
This event is FAMILY FRIENDLY.
All TOOLS and PROTECTIVE GEAR will be PROVIDED.
LUNCH will be offered to ALL VOLUNTEERS.
FUN ACTIVITIES!
DJ!
RAFFLE! RAFFLE! RAFFLE!
Long sleeves + pants required day of the event.
This event is a collaboration and is brought to you by:
Dept of Small Interventions
Habitat for Humanity of Greater Newburgh
Outdoor Promise
Quassaick Creek Watershed Alliance
Newburgh Housing Authority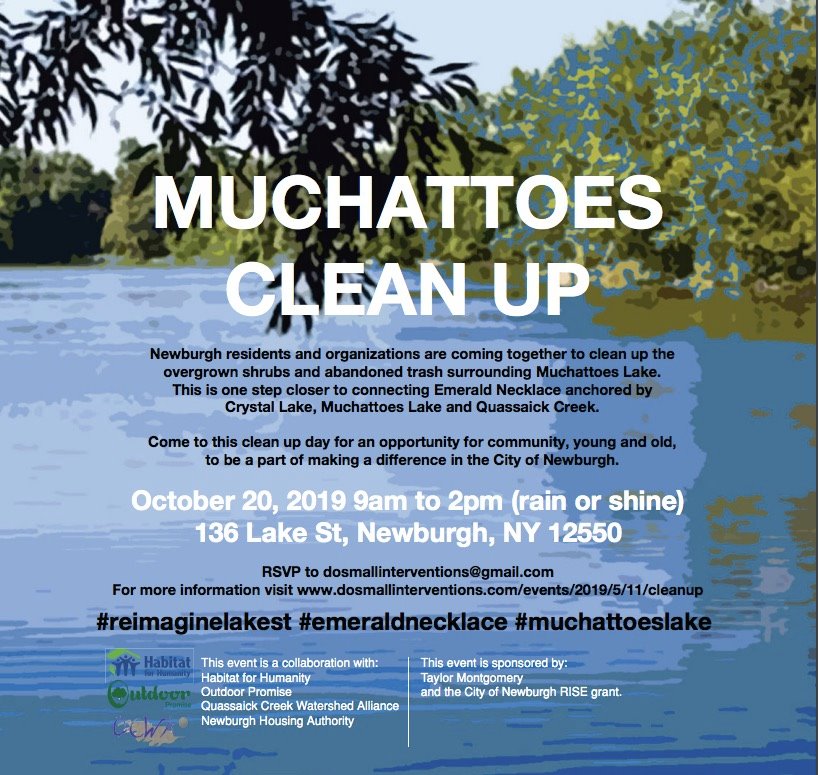 —
EN ESPAÑOL:
Los residentes y las organizaciones de Newburgh se unen para limpiar los arbustos y la basura abandonada que rodea el lago Muchattoes. Te invitamos a ti y / o amigos a unirte!
¡Muchos residentes y transeúntes olvidan esta belleza natural y la cascada escondida que se encuentra cerca! Por lo tanto, queremos revelar nuestros activos naturales limpiando el perímetro oriental de Lago Muchattoes, crear una abertura hacia el lago en South William Street y asi comenzar a dar forma a un corredor de Lake Street más acogedor. Este proyecto también comienza a reconectar el área a otras anclas naturales, Crystal Lake, Quassaick Creek, Muchattoes Lake y Delano-Hitch Park, creando así nuestro propio "collar de esmeraldas".
RSVP es alentado: dosmallinterventions@gmail.com
(Por favor incluya el nombre completo y edad de cada asistente, correo electrónico y número de teléfono)
¿No puedes atender? Todavía queremos saber de ti. Comparta sus pensamientos sobre los futuros esfuerzos de rehabilitación para el corredor Muchattoes Lake y Lake Street.
Por favor complete la encuesta a continuación:
¡Ayúdenos a promover este evento compartiendo esta invitación!
Este evento es PARA FAMILIAS.
Todas las herramientas y equipo de protección serán provistos.
El ALMUERZO se ofrecerá a TODOS LOS VOLUNTARIOS.
¡ACTIVIDADES DIVERTIDAS!
¡DJ!
¡RIFA! ¡RIFA! ¡RIFA!
Camisas de mangas largas y pantalones largos son recomendables el dia del evento.
Este evento es una colaboración y es traído a usted por:
Dept of Small Interventions
Habitat for Humanity of Greater Newburgh
Outdoor Promise
Quassaick Creek Watershed Alliance
Newburgh Housing Authority